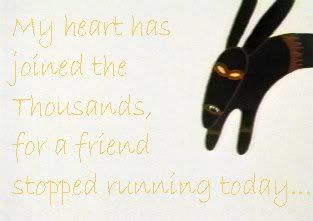 I do not recall when we actually found Roadcat on the highway but it was over a year ago. She was hit by a car, or possibly fell out of the engine of one (as she liked to sleep in ours) but in that three weeks I kept her in that box on the patio I fell in love with her, and in fact I she became my most favoritest cat ever (please, do not tell Az). Of all the cats outside I would pick her up and pet more, as it was looking into her beautiful little face that made me happiest. Though, I do admit to likely petting Squirrel & Flat Cat more often, but mainly cuz they stalked me for attention. Once in a while I would bring her inside and we would watch a bit of TV together, or I'd pull the burrs from her hair and give her a good brushing. Sometimes we'd just sit on the patio and talk...
Wednesday morning she did not show up for breakfast and that worried me, but I felt better that afternoon when I saw her on the far side of the patio as I was heading out. I took a fleeting moment to run over and rub her head and to tell her that I worry when she is gone.
Thursday evening when we got home she was by the door, which is not all that common. She was skinny as a rail and didn't more to let us by like normal. We brought her inside with us and that is where she stayed...
Last night, I held on to her in bed for several hours before I fell asleep. I got up twice in the night and talked to her a little bit more. The last time I got up it was 4:08am. I once again told her that I loved her, then I took her little paw in my hand and I fell back asleep. Sometime between then, and 7:08am when the dog woke me up wanting to go out she passed onto the otherside.
I do believe she is happier there, but I will miss her none the less...and once she get's the paperwork out of the way I hope that she can find a mouse field where she can run and jump and do all the other things she's not been able to do this last year and a half....
Road Cat, I love you.